Support, Volunteer, Donate
Support
Facebook Members – become Fans of FAR and/or Members of the FAR Cause then invite your friends to join.
Add your name to our mailing list by sending us an email by clicking here
Tell your friends and relatives about FAR and encourage them to add their name to the mailing list.
Do you know someone – or are you – a celebrity, in the media, or a person in a power position who can spread the word about FAR. If so, please contact us to work together.
Do you belong to an organization that makes donations? Ask them to include FAR in their giving.
Volunteer
Become a volunteer in your community – Place brochures and donation boxes in your community such as in libraries. FAR will send you brochures and a donation box and mentor you if you want.
Hold an event (FAR can help with these)

Have a table or booth at a street Festival.
Hold a raffle.
Many businesses (especially restaurants) will give a percentage of a day's intake to a charity. Sign them up!
Hold a sports competition with proceeds going to FAR.
Have a luncheon and card party (one of the most successful FAR events).

Do a Flash Dance (FAR can provide help)
Donate via the button, the Facebook Cause, or by mail.
Designate eBay sales to go to FAR.
Have a home sales party. Many companies such as Pampered Chef, Flower Power and Dove Chocolates will donate a portion to Charity.
Have a musical or dramatic performance in your area to benefit FAR.
Ask your employer to donate to FAR.
Donate
Donate by mail to FAR, PO Box 54, Middlebury, VT 05753
Donate online using the link on this page.
Allocate eBay sales to FAR.
Give a Memorial Gift.
Include FAR in memorial gift suggestions.
Fill out employee matching gift forms.
Make FAR donations part of your financial plans.
Did you know that each time you shop at any of the 5,000+ online stores on Goodshop, a portion of what you spend benefits the Foundation for Alcoholism Research? While your purchases help support our cause, you can also save money with Expedia coupons, Vistaprint sales, and free shipping at J.Crew . Just sign up here to select our cause and begin shopping, saving, and giving!

PayPal accounts Only
100% of every donation processed by PayPal Giving Fund will reach FAR thanks to operating support from PayPal.
FAR T-Shirts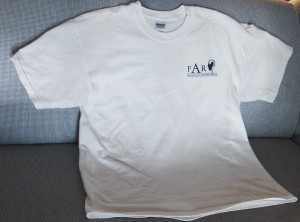 Every shirt includes Free Shipping
100% COTTON Pre-Shrunk
Questions? Call 802-758-2243
To request other available sizes, please call.
$15.00